Ask any Kochiite what their favourite hangout spot in the city is and 9/10 people would definitely say Fort Kochi. It has oodles of charm and holds such a special place in all our hearts. What makes it so unique is that Fort Kochi offers something for everyone – from the remnants of the bygone British era, peppered with its history of the spice trade (pun intended), to the thriving artistic, cultural and culinary scene in the city, Fort Kochi wears many hats with aplomb.
You could spend the whole day strolling through the calm, quirky-named streets of Fort Kochi (Burgher Street, Princess Street to name a few), gazing at the old-world architecture, stopping to eat a bite at one of its many umpteen cafes, shopping for cool knick-knacks at the roadside stalls or even just lounging lazily in the shade at Jawahar Park.
How To Reach
The easiest way to reach Fort Kochi is by road, by taking the Thevara-Thoppumpady route from Ernakulam South and via Maradu if you are coming from Kakkanad. Alternatively, you could skip the traffic and catch a boat from Ernakulam Boat Jetty; and on reaching Fort Kochi you would have plenty of autos, cycles-for-rent at your disposal.
Tourist Attractions
Jewish (Paradesi) Synagogue and Mattancherry Palace (Dutch Palace)
Constructed in 1568, the synagogue is located in the quarter of Old Cochin known as Jew Town,and is the only one of the seven synagogues in the area still in use. The complex has four buildings. It was built adjacent to the Mattancherry Palace temple on the land given to the Malabari Yehuden or "Yehuden Mappila" community by the Raja of Kochi, Rama Varma. The Mattancherry Palace temple and the Mattancherry synagogue share a common wall.[1]
The Mattancherry Palace was built and gifted by the Portuguese as a present to the King of Cochin around 1555. The Dutch carried out some extensions and renovations in the palace in 1663, and thereafter it was popularly called Dutch Palace. The rajas also made more improvements to it. Today, it is a portrait gallery of the Cochin Rajas and notable for some of the best mythological murals in India, which are in the best traditions of Hindu temple art. The palace is a quadrangular structure built in Nālukettu style, the traditional Kerala style of architecture, with a courtyard in the middle. In the courtyard there stands a small temple dedicated to 'Pazhayannur Bhagavati', the protective goddess of the Kochi royal family. There are two more temples on either side of the Palace, one dedicated to Lord Krishna and the other to Lord Siva. Certain elements of architecture, as for example the nature of its arches and the proportion of its chambers are indicative of European influence in basic Nālukettu style.[1]
Visiting Time:
The Synagogue is open every day except Fridays, Saturdays and Jewish holidays.
Forenoon – 10 am to 12 noon;
Afternoon – 3 pm to 5 pm
Visitors are expected to enter the Synagogue barefoot.
Jew Town
Jew Town is the narrow street adjacent and leading to the Jewish Synagogue, lined with shops selling antique items, clothing, jewellery, perfumes, spices and various other souvenirs.
Half a day can be spent in Jew Town, Jewish Synagogue and Dutch Palace.
Kerala Folklore Theatre and Museum
If you are a history buff, do not miss to check out the Kerala Folklore Theatre and Museum over at Folklore Junction, Thevara, Kochi. Though it is situated en route Fort Kochi, the Kerala Folklore Museum, is the only architectural museum in Kerala and is a treasure trove of stone, wooden and bronze sculptures, ancient terracotta, stone age objects, jewellery, paintings, oil lamps, musical instruments, tribal and folk art, wood works, utensils, masks and traditional art forms etc. The building in itself is a cultural hub which houses:
Face Art Gallery – for Art & Antiques.
Folklore Theatre – live performances of traditional art forms & cultural activities.
Spice Art Café – to experience the real culinary taste of traditional Kerala.
Souvenir Shop – to buy real ethnic antiques and tribal artefacts.[1]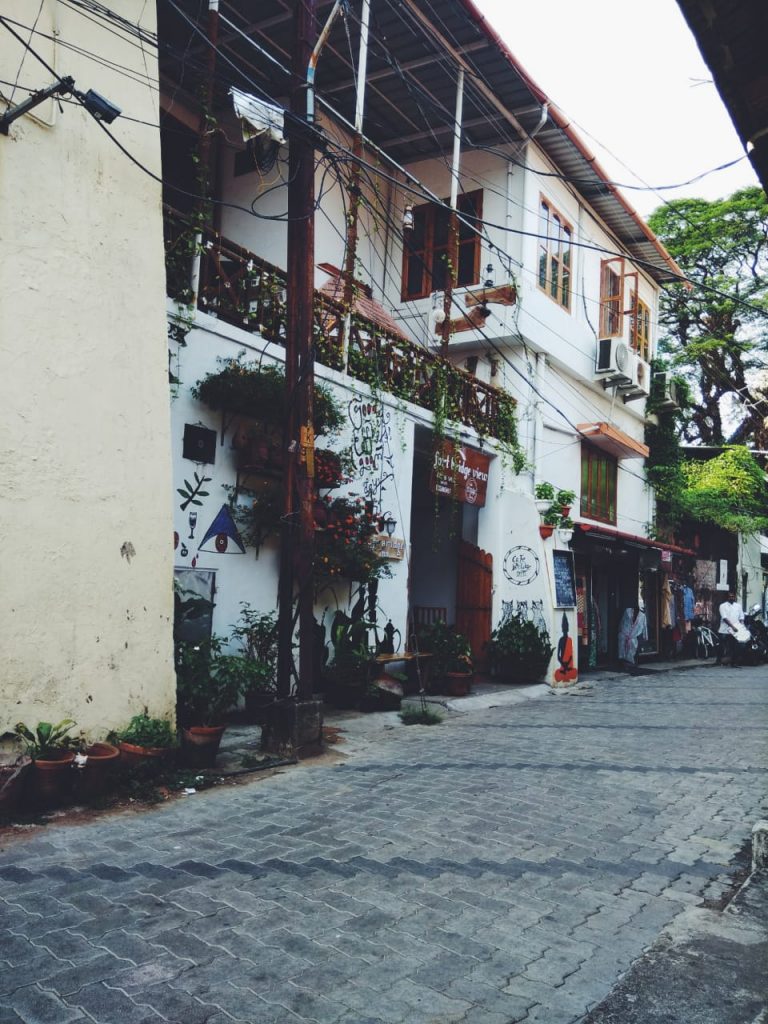 Santa Cruz Basilica
The Santa Cruz Cathedral Basilica (also known as കോട്ടേപള്ളി / Kottepalli) at Fort Kochi is one of the nine Basilicas in Kerala. Counted as one of the heritage edifices of Kerala, this church is one of the finest and most impressive churches in India and visited by tourists the whole year round. It is a place of devotion as well as a center of historic significance, endowed with architectural and artistic grandeur and colours of the gothic style. The Basilica serves as the Cathedral church of the Diocese of Cochin.[1]
The Basilica is a treat for the eyes with its tall, white grandeur, intricate architecture with stained glass windows and wall carvings. The interior of the Basilica is adorned with several canvas paintings, including a near perfect replica of The Last Supper.
Chinese Fishing Nets
The Chinese fishing nets (or cheenavala) in Fort Kochi have been an iconic landmark for decades and is one of the most sought out tourist attractions in the city. This way of fishing is unusual in India and almost unique to the area, as it was introduced by the Chinese explorer Zheng He, who landed here in the 14th century.
Fort Kochi Beach and Jawahar Park
Once you are done exploring, you could catch the waves at Fort Kochi beach or lounge under the trees at the nearby Jawahar Park, with an ice cream or tender coconut in hand.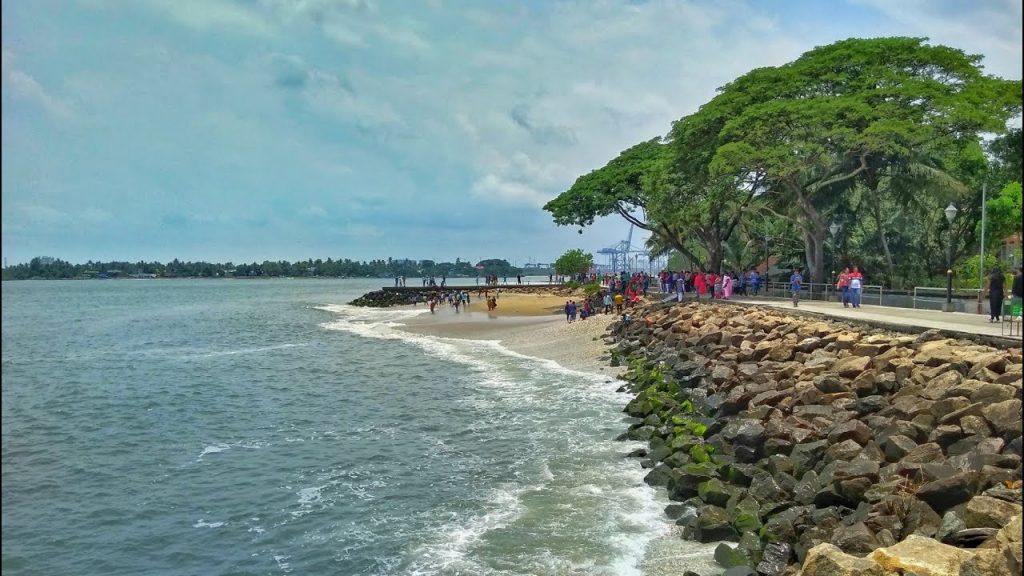 Where To Eat
Fort Kochi is a food lover's paradise. There is no dearth in diversity as far as food is concerned, for Fort Kochi satiates every demographic. Any trip to Fort Kochi is incomplete without having biriyani form Kayees Rahmathullah Café, near Gujarati Temple, Mattancherry. Some of the must try dishes are Mutton Biriyani, Chicken Biriyani, Roasted Mutton, Roasted Beef to name a few. Another favourite biriyani spot would be Jeff Biriyani at Thoppumpady, which is famous for its Afghan Chicken, Chicken Biriyani and Mutton Biriyani. What both these places lack in ambience they make up for it in the warmth of the service and in the delectable taste in the food they serve. Make sure to reach around 12 PM as both places run out of biriyanis pretty quick.
For those seeking continental or American cuisine, Fort Kochi is the best place to indulge. Kashi Art café, Qissa Café, David Hall Art Café, Mocha Art Café,and Pepper House are some of the notable cafes worth a visit.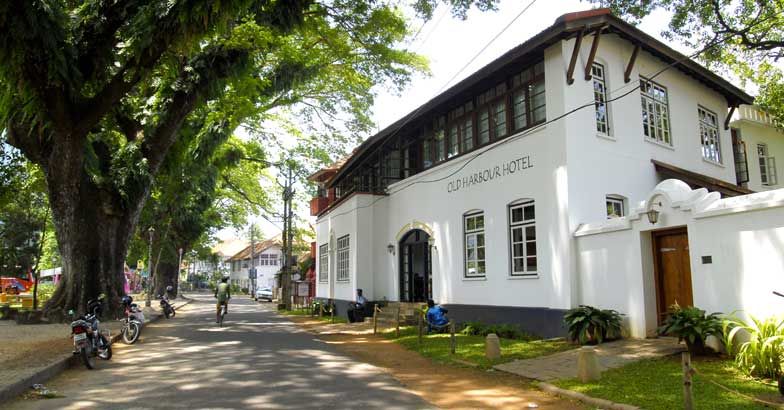 If fine dining is your thing, do check out Brunton Boatyard, 51-Xandari Harbour are worthy options and if you are looking to indulge in a few drinks, Hotel Seagull would be the first choice followed by Old Lighthouse Bristow Hotel, Club 18, XL Hotel and 18° Degree Rooftop Bistro.
Other worthy mentions are Casino Hotel, Sutra Restaurant, Fort House Restaurant, Upstairs, Rasoi, Asian Kitchen by Tokyo Bay.
---
Author Bio: A true blue Kochiite, with a penchant for reading and dancing, who occasionally dabbles in poetry and experimental cooking.

Instagram : sanjana.sudhir